Swarthmore College
Class of 1968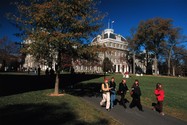 Somerville: What's New
My birthday has been a well kept secret. That's OK with me but over the years I've wondered ...
Posted on: Jan 01, 2023 at 5:48 PM
Happy Birthday Hal! It all seems so long ago that we travelled to Tennessee for that orientation! But it turned out to be a formative experience for me that lasted 15 months.
Posted on: Nov 20, 2021 at 3:16 PM
I'm taking a pause in the chaos of my life to add a bit of updated information to the item in our most recent class note regarding my involvement with an NGO operating in Afghanistan, Ascend - Leadership through Athletics. Since mid August Ascend has been working literally around the clock to extricate our Ascend family from Afghanistan.

First the numbers. To date Ascend operations have brought 130 + members of its community out of Afghanistan. While evacuation operations will continue, the emphasis now shifts to resettlement of those in transit. Twenty have arrived in their new home in Ireland. The first nineteen of twenty-nine are resettled in Chile. Five have transitioned from US care in Abu Dhabi to Germany. Four of eight are now in Denmark. Currently twenty are in US resettlement facilities in the US with more to follow. Others are in transit in Abu Dhabi, Pakistan, and Kazakhstan. A little over three months (a lifetime) ago Ascend was delivering women's empowerment programming in Kabul. Since then an awesome team of staff and international volunteers has worked seven by twenty four, managing a global migration of young women to new homes. Truly remarkable transition!

Reality check. Take a long look at the photo and think about it. I find it moving. These girls have just disembarked in Abu Dhabi. They are so much more than numbers to celebrate. They are teenagers just like your grand kids or the kids living down the street from you. Two are only fifteen. They and their families have made excruciatingly difficult decisions. Two days before getting on the evacuation flight in Mazar they said good bye to their homes and families not knowing if they would ever see them again. Their courage is mind boggling. It was the promise of a future free of Taliban brutality and an opportunity to acquire education and live as free women that motivated them to accept challenges that will test that courage. Their faith in Ascend gave them the strength to commit to a promising future. They are remarkable.

Ascend's strategic plan for 2022-2023 is emerging. Revised programming will continue in Afghanistan. The objective of the empowerment of Afghan women and commitment to Ascend's mission there remains unchanged. The board of directors will also be considering options for exporting the Ascend model to other countries with similar cultural characteristics (and mountains!) to Afghanistan. And the Ascend programming model is likely to be applied in refugee communities with one country already establishing a prototype organization. And the beat goes on!

The Taliban are in Kabul. That's one reality that Ascend will respond to. A more universal reality is that girls and women globally face challenges where the leadership skills that Ascend enables can be brought to bear. That's what Ascend is all about.
Posted on: May 01, 2021 at 10:38 PM
I'm worried about the current wave of voter suppression laws. Shouldn't we be going in the other direction? Hillary, let alone Joe, was the democratic choice. Maybe we should consider pushing back voting to be a democracy rather than a republic; to ACTUALLY be led by the choice of the majority. And when $100/voter is spent on Georgia's runoff senate elections, should both parties be supporting this imbalance that money has infused into our democratic processes?
I went to the 50-year reunion and hope to attend the 60-year reunion and maybe one of the storied foreign trips for grads (if I can afford it).

I'm convinced that the billions of dollars we spend each year (34% of the world's war budget "defending" 4.2% of the world's population in one of the safest parts of the planet) is absurd and counter-productive. We have 200,000 troops and a massive number of sophisticated killing machines spread out in foreign lands, oceans and seas using threats and bullying to maintain our superior financial status ... the poor and middle classes aiding the wealthy in their unending quest for "return on investment" otherwise known as profit.

We occupy just Japan, Germany, and South Korea with 100,000 troops and we've been there for 65-75 years and counting. An additional 100,000 are in other parts of the world where they often serve the financial interests of our wealthy rather than the social wellbeing of our society in general.

I was a nuclear missile maintenance man and I can assure you that each and every nuclear bomb (spread all over the globe) is a terrorist weapon and has been since it was manufactured. They serve no other purpose.
Posted on: Aug 18, 2021 at 3:26 PM
Happy Birthday! A voice from the past. It was Niceto see your name appear in email.