Swarthmore College
Class of 1968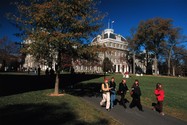 Somerville: What's New
Happy Birthday Marc.
Joe Boyd
Happy birthday Frank. Hope all is well.
Joe Boyd
Posted on: Apr 11, 2023 at 7:48 PM
I closed my Los Angeles practice for good in June of 2020, and since then have been in semi-"retirement" in the little desert town of Joshua Tree, California with my wife of 43 years, Carolyn. I feel like I'm working harder than ever, but that's probably because I've slowed down a bit. I count myself incredibly fortunate to still be doing what I love at this age.
My birthday has been a well kept secret. That's OK with me but over the years I've wondered ...
Posted on: Jan 01, 2023 at 5:48 PM
Happy Birthday Hal! It all seems so long ago that we travelled to Tennessee for that orientation! But it turned out to be a formative experience for me that lasted 15 months.