Swarthmore College
Class of 1968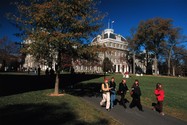 Somerville: What's New
Posted on: May 14, 2021 at 9:36 AM
I remember the young woman in the photo! See, I can still remember stuff! Ahhh... Libby. I amgoing to miss you. One of the many ways you loved life was your love of dancing. Let us dance together in the great beyond....
Cake headed to Delta. Watch for parachute over house mid AM (MDT) next Thursday. Handle with care upon landing to avoid candle flames igniting shroud. Return address for chute will be attached. I expect cake to be shared with Joann and Jan. George, Bob and Dave optional.
Posted on: Sep 16, 2020 at 11:38 AM
Happy birthday Marc.
Posted on: Aug 19, 2017 at 7:35 PM
Wow! Very impressive! (I dropped bagpipe after one lesson!)
Posted on: Jan 01, 2019 at 3:06 PM
Happy birthday Hal
Posted on: Oct 01, 2018 at 10:11 AM
You back in NC yet? Need to get you over here for dinner.
Posted on: Dec 23, 2017 at 2:14 AM
Thanks again John for the tour of the NASA Goddard Space Center that you gave me, my grandkids, and their dad back in 2014. I'm sure it had a profound affect on them. My granddaughter, Nessie, graduated from Essex Community this past May 2017 and will soon go on to a 4 year college. The grandson, JayJay, is now a freshman at Penn State. He plays basketball and is studying business. Look forward to seeing you at the Reunion.
Posted on: Aug 07, 2018 at 11:12 PM
Happy birthday John