Swarthmore College
Class of 1968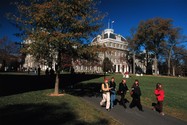 1964 Cygnet
Click here for the PDF of The 1964 Cygnet.
The pages are sideways. Sorry. We're working on that.
In the meantime, if you want to copy your picture for your profile, follow these instructions (unless you already know how to do this.
Download the entire document to your computer and save it.
Open your copy of the Cygnet document and scroll down to your page.
Select your page.
There will be an icon at the top that will allow you to rotate your page.
Then take a screen shot of your picture and save it.
Now you can upload that picture by going to your profile page.
Good luck!