Swarthmore College
Class of 1968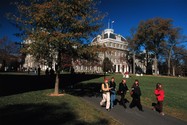 Share your carbon story

Inspire Your Classmates
Have you been introducing sustainability measures in your own life? Tell us how at the Saturday afternoon panel on "Working with Climate Change" with Director of Sustainability, Aurora Winslade.
An electric car? Solar panels dating back to 1976? or 2018? Recycling down to minimal waste? Maybe you have a small windmill. Or worked to have one installed in your town or school.
Send us your story and we'll make up a slide to show at the panel discussion as a visual aid while you describe to your classmates what measures you've taken to reduce your own carbon output or the carbon input in institutions you've worked for.
Your example will inspire us all to think about what else we can to do to change the climate equation. This revolution is coming from the bottom up!