Swarthmore College
Class of 1968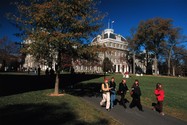 CLASS GIFT: New News!
WE TOPPED $315,000!!! WELL OVER OUR GOAL OF $250,000. CONGRATULATIONS EVERYONE!
THANK YOU TO ALL GENEROUS CLASSMATES WHO HAVE CONTRIBUTED TO THE 50TH REUNION GIFT IN DONATIONS LARGE AND SMALL. EVERY GIFT COUNTS. EVERY DONOR GIVES VOICE TO SUSTAINABILITY.
FOR THOSE OF YOU WHO HAVEN'T YET RESPONDED, THERE IS STILL TIME. LET'S MAKE OUR GIFT TRULY FROM ALL OF US.