Swarthmore College
Class of 1968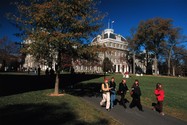 MARK SMITH, Thoughts
Thoughts / Notes on
What's Changed and What's Stayed the Same in Health Care
in the Past 50 Years
Mark Smith 28 May 2018
The little riff that follows is about what has changed, what has stayed the same, and what has come full circle in the field of medicine and health care during the past 50 years. That seems to be a perspective that fits well with a 50th college reunion. So much has changed, but quite a lot has stayed the same.
What follows is based on interrogating my own life experience, large parts of which are probably shared by at least many of you, plus observations gleaned from 30 years of direct personal experience as a practicing emergency physician in Washington, DC, plus what I have learned in the last seven years while serving as the chief innovation officer of a large healthcare system (the irony and the oddity, by the way, of a 30,000-employee not-for-profit healthcare system having a 71 year old as its chief innovation officer is not lost on me).
It's an interesting perspective to take—this perspective of what has changed, what's stayed the same, and what has come full circle. In point of fact, it is a special privilege to be here to take such a perspective, for which I am extremely grateful; many of our classmates never got the chance.
It is not often easy to conjure up how things used to be. Things fade fast. Memories desaturate. We live in the present, especially when it comes to things technologic, and it is easy to forget how things used to be
The default perspective through which many of us see the world most of the time is, for want of a better term, the pinhole myopia of the present. Going up in altitude and seeing the extended timeline below takes conscious effort.
So here is my cut. Yours will be different. I am sure you will add some, subtract others, and together we can create and visualize a rich river of time passing.
In fact, before you proceed, take a few minutes and jot down what is different in healthcare and medicine, discontinuously so, from the way things used to be "way back when."
What Is Different
Imaging technology (has revolutionized the diagnostic process)-- CT (computed tomography) / MR (magnetic resonance) / widespread use of ultrasound / PET scans for cancer activity.
New Surgical Techniques --- Minimally invasive surgery, laparoscopic approaches, catheter therapeutics, Radiosurgery (Gamma Knife, Proton Beam, Cyber Knife) for neurosurgical procedures
"Electronification" of the medical record --- and potential to use individual and population data predictively
Consumer / Patient Empowerment "The patient will see you now" with many more home diagnostics, and most importantly the home diagnostic of access to substantive information about health and disease
New Patterns and Venues of Care --- urgent care, ambulatory surgery centers, clinics in pharmacies; overarching theme-- hospital to outpatient to ambulatory to home
Doctor as Employee of Large Organizations (sayonara solo practice)
MidLevel Practitioners (Advanced Practice Clinicians)--- Nurse Practitioner Physician Assistant
New Diseases-- HIV, Lyme Disease, Metabolic Syndrome, SARS,
Emergency Medicine --- rise of a new specialty, professionalization of the ER, higher quality of emergency care
Cardiac Resuscitation --- Advanced Cardiac Life Support, chest compressions instead of pulling on the arms
Treatment of Big Conditions -- heart attack and stroke … acute clot as the culprit, with course-changing thrombolytic and angioplasty interventions
New Drugs --- for cancer, hypertension, depression, immune diseases, anti-retrovirals
Shorter Length of Hospital Stays
Medicare and Medicaid -- health insurance "for all", government responsibility
Evolution of Medicare Payment Model --- Cost Plus to Fee for Service Diagnosis-Related-Groups to "Value-Based" Reimbursement
Deinstitutionalization of Mentally Ill Patients
Hospice Care & Palliative Care--- specialized care for the dying
Joint Replacement Surgery --- knees and hips
New Understandings of Diseases -- h pylori and peptic ulcer disease
New Concepts--- microbiome, immune modulation
What Has Stayed the Same Over the Past 50 years
Relational dimension of care -- "they don't care how much you know until they know how much you care"; acts of genuine kindness
Documentation of clinical encounter --- text based (write, type, picklist)
Arcane insurance rules and Incomprehensible patient bills --- inpatient versus outpatient, facility fees versus professional fees
Macro Physiology and Anatomy – principles of disease process and disease manifestation are timeless
360 Degree Changes in Thinking
Sometimes we come full circle. What was right becomes wrong and then right again. There are probably many more examples of these but here are a few that I have personally experienced
Dietary Advice: "Avoid starches" TO "Low Fat / High Carb Diet" TO "Low Carbs"
Obesity -- "It's hormonal" TO "It's willpower" TO "It's hormonal"
Housecalls: Doctor comes to patient's house TO Patient goes to Doctor's office TO Housecalls
Pathoanatomy of myocardial infarction: "Acute coronary thrombosis" as the inciting event of a heart attack TO coronary artery spasm and metabolic mismatch TO acute clot on top of fissured coronary artery plaque as cause of coronary occlusion
What Is On the Horizon
Genomics
Digital Transformation -- application of data science to suggest direction and predict outcome
Artificial Intelligence / Human Intelligence Augmented
Wellness (with focus on nutrition, sleep, exercise)
Power Shift to the Consumer
Personal Health Record
Payor/Provider Merging (Kaiser as the model)