Swarthmore College
Class of 1968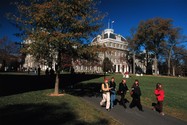 David N. Dodson
Profile Updated:
June 13, 2023
Yes! Attending Reunion
| | |
| --- | --- |
| Spouse/Partner, children, grands and steps: | Partner: Nancy Laurel Hubler, Tucson, AZ. 1 daughter, 2 granddaughters, 4 grandsons, 1 great-grandson |
| | |
| --- | --- |
| More about Spouse/Partner or Special Friends: | I sold the Phoenix house last year and just now (Feb, 2023) bought a small place in Tucson, AZ with More… |
| | |
| --- | --- |
| Career History: | I was a high-level computer programmer. Generally Accepted Accounting Principles gave programming zero value, making large corporate entities incapable of large, prolonged software projects. 17 years, poor pay, long hours, success, frustration. |
| | |
| --- | --- |
| Military, Peace Corps, Alternative Service, Protestor: How was it for you: | Army Missile Air Defense |
| | |
| --- | --- |
| City and State: | Phoenix, AZ USA |
I went to the 50-year reunion and hope to attend the 60-year reunion and maybe one of the storied foreign trips for grads (if I can afford it).

I'm convinced that the billions of dollars we spend each year (34% of the world's war budget "defending" 4.2% of the world's population in one of the safest parts of the planet) is absurd and counter-productive. We have 200,000 troops and a massive number of sophisticated killing machines spread out in foreign lands, oceans and seas using threats and bullying to maintain our superior financial status ... the poor and middle classes aiding the wealthy in their unending quest for "return on investment" otherwise known as profit.

We occupy just Japan, Germany, and South Korea with 100,000 troops and we've been there for 65-75 years and counting. An additional 100,000 are in other parts of the world where they often serve the financial interests of our wealthy rather than the social wellbeing of our society in general.

I was a nuclear missile maintenance man and I can assure you that each and every nuclear bomb (spread all over the globe) is a terrorist weapon and has been since it was manufactured. They serve no other purpose.
Posted on: May 01, 2021 at 10:38 PM
I'm worried about the current wave of voter suppression laws. Shouldn't we be going in the other direction? Hillary, let alone Joe, was the democratic choice. Maybe we should consider pushing back voting to be a democracy rather than a republic; to ACTUALLY be led by the choice of the majority. And when $100/voter is spent on Georgia's runoff senate elections, should both parties be supporting this imbalance that money has infused into our democratic processes?
Posted on: Apr 04, 2019 at 4:33 AM