Swarthmore College
Class of 1968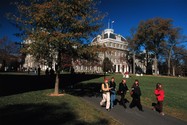 AMPLIFY OUR IMPACT!
To the lovely, energetic, committed, passionate Class of l968:
Have you contributed to the class gift? If you've been planning to, please please please make your pledge or give your gift as soon as possible. And be as generous as you can. A wise person said, "Give so you have no regrets." That means giving enough so you don't wish you'd given more and also so you don't give more than is right for your circumstances.
AMPLIFY THE PARTICIPATION
We have already received $185,000 - more than the anyone expected from our class and very close to our goal of $250,000. All gifts large and small are appreciated. Having donations from every one of our classmates is as important as making our goal.
AMPLIFY THE REACH
Our gift will show that the class of 1968 is behind Swarthmore's efforts to reach carbon neutrality by 2035. Our gift will encourage other classes to support Swarthmore's environmental efforts. Our gift will help Swarthmore become a leadership institution and an example to other institutions to try the Green Revolving Fund idea or some of the recycling tips that one of the President's Sustainability Research Fellows came up with (https://www.swarthmore.edu/news-events/quest-zero-waste) or place a carbon price on all departments for their use of carbon producing resources like heat and electricity and use of cars and airplanes.
AMPLIFY OUR INDIVIDUAL IMPACT
We can be inspired to put a carbon price on ourselves – donating more to the environment through electric cars, solar, wind or propane energy, switching out inefficient appliances for new energy-saving models. We can share what we're learning with other institutions in our lives – telling them about the Green Revolving Fund or referring them to Chair of the Department of Sustainability Aurora Winslade for how they can make an impact.
AMPLIFY OUR COLLECTIVE IMPACT
The Class of 1968's gift will help Swarthmore arm new graduates with ideas, excitement, skills, and best of all – hope. Our gift will be like a pebble in a pond – with ripples radiating out in all directions until they reach the farthest shore. We won't be the only pebble in this pond, thankfully, but isn't it exciting to amplify our individual impact in this way?!
AMPLIFY THE TOTAL
So, give as generously as you can. One powerful way to make your gift significantly larger is to pledge all the gifts you planned to give for the next five years to the Class of 1968 50th Reunion Gift. So if you planned to give $500 each year, the five year pledge to the Class Gift is $2,500!
Make sure you specify that you want your gift to go to the Class of 1968 50th Reunion Gift. Otherwise, it will go by default to a general fund at Swarthmore.
If you would like help with any of this, contact Hal Kwalwasser at hkwalwasser@aol.com.