Swarthmore College
Class of 1968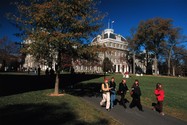 LETTER FROM HAL
Dear Classmates:
This is a personal note. I don't speak for the rest of the fundraising committee, but I think they all share my sentiments about our fundraising effort this past year.
For the past twelve months, I've had the most gratifying and joyous time reconnecting with classmates. Some I've not spoken to in five years, others fifteen, and many not for fifty. Yet, it all seemed as if was just yesterday. Whatever paths we've traveled, whatever life experiences we've had, the conversations were singularly distinctive in that they all seemed as if we had just spoken the day before. Some of us loved our years at Swarthmore, and some of us clearly had a less pleasing time. But, whether we like it or not, those years created bonds and affections that have not died, and, seemingly, have barely diminished.
I sense that there are some cynics out there who think these feelings are a "bit much." Not so. I counted up the people I've contacted in the last year to talk about the possible gift ideas, the voting process, and then raising the money itself. It's close to seventy people. Given the rather touchy subject of asking people for money, I was amazed at how much I enjoyed those minutes or hours on the phone or in typing out emails. I am going to miss that experience. People have asked me: "Isn't it hard to ask people for money?" Well, yes and no. And the "no" is that everyone was gracious, but more importantly, the conversations we had were extraordinarily warm and easy.
For that I thank you. You've done the impossible; you've put the "fun" back in "fundraising." And I am sure that the rest of the fundraising committee thanks you as well.
All of that points to a wonderful reunion. I look forward to seeing all of you.
Hal Kwalwasser