Swarthmore College
Class of 1968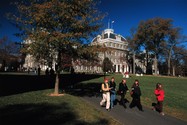 Somerville: What's New
Posted on: Oct 01, 2018 at 10:11 AM
You back in NC yet? Need to get you over here for dinner.
I find Faris's passing very disturbing. No doubt because I haven't crossed paths with him for fifty years, but I can not imagine him as anyone other than the young, strong lacrosse player, my team mate, that I knew. He and I shared a Baltimore / Washington area high school lacrosse background (his of a better pedigree than mine) that brought us together in our first fall at Swarthmore. His upbeat contributions to our team were important and appreciated. A truly good guy. Feeling sad. For his family, of course, but also for myself.
Posted on: Aug 21, 2017 at 9:15 PM
My favorite wedding photo. Yes, not exactly the beautiful bride and handsome groom coming down the aisle, but it brings back fuzzy (wonder why?) memories of a terrific wedding weekend with a wonderful couple and friends. Fun, crazy days of youth. Let's do it again to celebrate your golden anniversary!!
Posted on: Dec 10, 2017 at 10:20 AM
Enjoyed chatting with you last month. I would love to see you work close up. Maybe you should do a retrospective of southern Appalachian landscapes?
Posted on: Sep 19, 2017 at 1:20 PM
Still noted for your colorful vocabulary, Kathy? Just asking. Curious.
Posted on: Sep 19, 2017 at 1:29 PM
Favorite memories. Some faded to the point that I don't remember all the names. Like that basement snack bar with the mural on the brick wall (I actually still have one of the bricks from when it was demolished). Anyway, the memory. Sitting at a table there freshman year listening to Dave Cohen relate in great detail all of his high school sexual exploits. Must have taken better than two hours. I was very impressed.
Posted on: Aug 22, 2017 at 9:31 AM
I'm up to 104 with more countries already in plan for '18. Claimed Century Club last year. What's your number, Bob? (Not trying to be competitive here. But you did post the challenge.)
Can't tell you how much I enjoyed talking and reminiscing with you this afternoon, Ole. It was pure fun! Best part for me was remembering ... oh, I guess I shouldn't bring that up again in a public forum!! You know the incident I'm referring to. Blues Project? Jefferson Airplane? J. Geils? Wow! I'd forgotten how progressive the music scene on the campus was. I'll be calling again soon.
I never drive through W-S without telling myself I should try to contact you. And I drive through frequently. Shame on me!